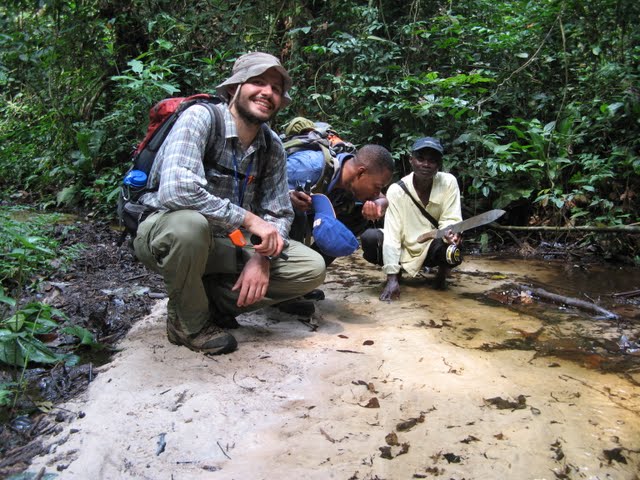 Giuseppe Molinario
Graduate Student
Thesis Title:
Forest cover dynamics of shifting cultivation in the Democratic Republic of Congo
Giuseppe is investigating how shifting cultivation in the Democratic Republic of Congo interacts with forest and impacts the environment and how it is included in alternative sustainable development pathways which target not only economic development but the protection of the environment, biodiversity and future resource use. The role that traditional livelihood farming has to play within development pathways is of paramount importance in the planning, management and development of land.
Particularly current payment for ecosystem services schemes such as Reduced Emissions from Deforestation and Degradation (REDD) programs rely on the accurate depiction of a baseline area of agriculture activity and forest disturbance, which can vary greatly depending on our understanding of what that area is. Monitoring and verification that such programs are run in accordance to goals also depends on the accurate mapping of how shifting cultivation affects existing forest. The sustainable planning and management of agricultural areas can therefore benefit from increased information. Giuseppe is producing maps and animations that illustrate and allow us to compare how shifting cultivation affects forests in DRC across landscapes.
Giuseppe previously worked for the Italian Ministry of the Environment, the UN Food and Agriculture Organization and Friends of the Earth Italy. He obtained his MA at UMD where he has coauthored peer reviewed papers and presented in several conferences and meetings. His work has been funded by the USAID CARPE program for which he also helps backstop the website, webGIS site, data dissemination and communications program. In his free time he enjoys kite surfing, riding his motorcycle and reading fiction.
Giuseppe has worked on the development of the following web resources:
www.congo.iluci.org/shiftingcultivation
www.congo.iluci.org/carpemapper
www.carpe.umd.edu
www.infocongo.org